~ A Rendezvous to Remember ~
Plunge into the angst of the early Sixties: the Sexual Revolution; the Cold War; Vietnam; Civil Rights; and the contentious 1964 election.
Join Army brat Ann Garretson as she sparks an airmail romance with Jack Sigg, a West Point graduate guarding the Czech-German border. They hatch a summer rendezvous in Europe, each hoping the romantic tour will seal their love in a match for the ages.
Meet Ann's best friend, Terry Marshall, a fiery conscientious objector. He helps her plan the European escapade, but then irretrievably falls in love with her. Four lonely weeks after his wistful goodbye, he proposes marriage – by mail. His letter throws all three of their lives into the turmoil of a seesaw rivalry between two men with strikingly different visions for the future.
Join the young lovers for a Rendezvous to Remember – a tale of three idealists, two love affairs, one Corvette Sting Ray, and a European adventure at the dawn of the Cold War Sixties.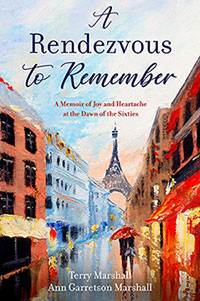 Sign Up for News Flashes
Please keep in touch! And to be notified as soon as Rendezvous to Remember comes out and to get other news from us, please sign up to the right. Our promise? We won't sell your address to anyone or clutter up your inbox with junk.