~ A Rendezvous to Remember  Synopsis ~
In the early Sixties, Ann Garretson sparks an airmail romance with her brother's best friend, Jack Sigg, both of whom are West Point graduates stationed in Germany to guard the Czech-German border during the Cold War. Ann's and Jack's correspondence heats up, and they hatch a rendezvous in Germany for the summer of 1964 to seal their budding love. A match for the ages.
Not so fast: Ann's best friend, Terry Marshall, helps her plan the European escapade, but then notices she's a girl, and that he's in love with her. In June, he bids her a wistful goodbye. Four lonely weeks later, he decides he can't live without her. He proposes marriage—by mail. His letter throws all three of their lives into turmoil.
Ann is in love with two men who hold strikingly different visions of the future. Lt. Jack Sigg offers a military life, the life she grew up with as an Army brat. Terry, a fiery conscientious objector, is slated to go to Venezuela at summer's end with the Peace Corps—unless the draft board intervenes and he goes to jail.
The two competing love stories are enmeshed in the major societal issues of the early Sixties: the personal choices young women—and men—confronted during the Sexual Revolution; the Cold War; America's involvement in Vietnam; Civil Rights; and the hotly contested 1964 national election. The Authors Ann and Terry met in high school—by mail. In college they became buddies. Then came their tortured courtship featured in A Rendezvous to Remember.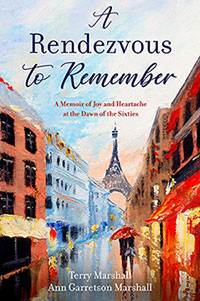 Sign Up for News Flashes
Please keep in touch! And to be notified as soon as Rendezvous to Remember comes out and to get other news from us, please sign up to the right. Our promise? We won't sell your address to anyone or clutter up your inbox with junk.