Yesterday—August 7—marked one of those significant events in American history that slip by without notice: no celebrations, no fireworks, no memorials.
Let's at least give it a shout out:
Here's the context: World War II—After Pearl Harbor (December 7, 1941), the Japanese were on their way to capturing the entire Pacific, from the Aleutian Islands in the north to New Guinea in the south, including the Gilberts, Marshalls, Marianas, Philippines, and the Solomons. They carved out an airport on Guadalcanal and began bombing raids on Australia.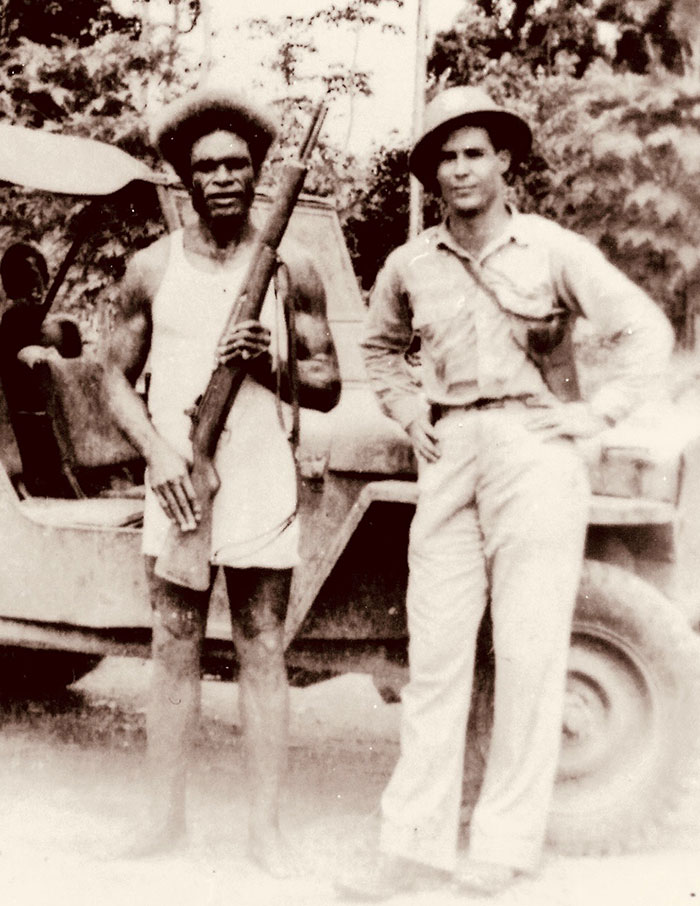 On August 7, 1942, exactly eight months after the disaster at Pearl Harbor, the US set out to halt Japan's heretofore unstoppable conquest of the Pacific toward Australia, and begin its long and bloody march to Hiroshima and Nagasaki and the end of the Pacific war.
It's also the day that a little known war hero—Jacob Vouza, a Solomon Islander—earned a spot in our history books.
US Marines landed on Guadalcanal on August 7. For the next six months, they endured hard-fought battles, not only against tenacious Japanese troops, but against tropical monsoons, malaria, dysentery, and yellow fever. They finally expelled the Japanese from Guadalcanal in February 1943.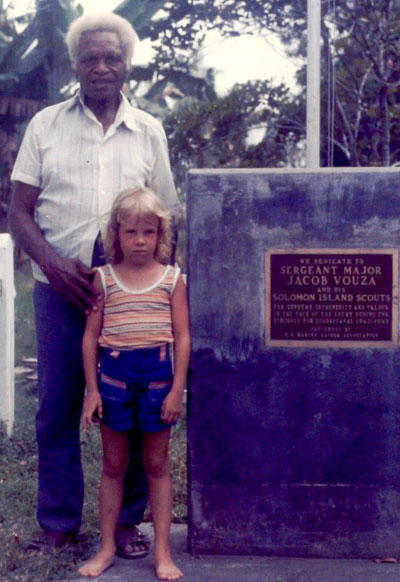 Jacob Vouza gained renown as a scout the very day the Marines landed. He rescued an aviator from the USS Wasp who was shot down over Japanese-held territory. Vouza guided the pilot to American lines, where he met the Marines for the first time—and volunteered to work behind the lines for the US and its allies.
Less than two weeks later—on August 20—Vouza was captured by the Japanese. The discovered an American flag tucked into his loincloth, and demanded he reveal the American positions. He refused. They tied him to a tree, bayoneted him, slit his throat, and left him to die.
Vouza chewed away the ropes, then crawled and stumbled miles through the jungle and raging battle to report enemy positions to his company commander. He remained a steadfast friend of America, and after the war, named his tiny village on the Guadalcanal plains "California."
He was made an honorary Sergeant Major in the U.S. Marine Corps, and was awarded an American Silver Star and Legion of Merit, as well as the British George Medal for gallantry. In 1979, he was knighted by Queen Elizabeth.
Vouza died on March 15, 1984, at the age of 92.
It's never too late to remember the past. Our thanks again to Sir Jacob Vouza, a WWII American hero.
More about Vouza in "By Canoe into My Father's War" at http://www.yourlanguageguide.com/world-war-2.html