Imagine this: You, your wife, and your Hawaiian associate and his wife are dropped off on a coral atoll near the equator in the southwest Pacific—after six weeks aboard a small sailing ship from Honolulu. It's November 17, 1857. You four are the only non-Gilbertese on an island of 3,000 people. And you don't speak their language. Nor do they speak yours.
No hotel or guest house here. No restaurant. No stores at all. No phones. No contact with the world you grew up in. No airplanes, no systematic boat service. You're stuck!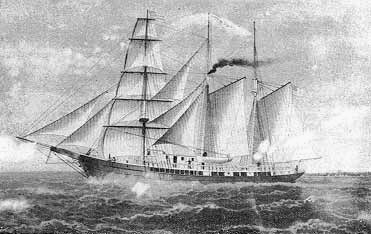 Somehow you figure out where to sleep that night, and what to eat—and every night and every meal thereafter for seven years. You set about building "a home" and trying to learn the language from the locals—grunting and gesturing to get folks to tell you what the word is for what you're pointing at, or the action you're pantomiming.
It takes you a year to develop a vocabulary of 1,000 words, enough to make your needs understood, even enough to try short, halting sermons in the local language.
Yep, you're a missionary: Hiram Bingham II. You've settled on Abaiang Island in the Gilbert Islands. And you're there to convert the "heathens" to Christianity.
Talk about a tough go: Three months after you arrive, your wife, Clara, gives birth to your first child. He's stillborn.
But you survive. You make acquaintances. You work to establish a mission. You add to your word list and begin to translate the Bible into this previously unwritten language of Gilbertese.
7 Years of Hardship, Perseverance, and Devotion
You and Clara labor on in Abaiang for seven trying years. When the Morning Star arrives to take you back to Hawaii in 1864, both you and Clara are deathly ill. Your weight has dropped to 128 pounds. Your "flock" has never materialized. You've made only a handful of converts. But you've finished translating two-thirds of the New Testament into Gilbertese.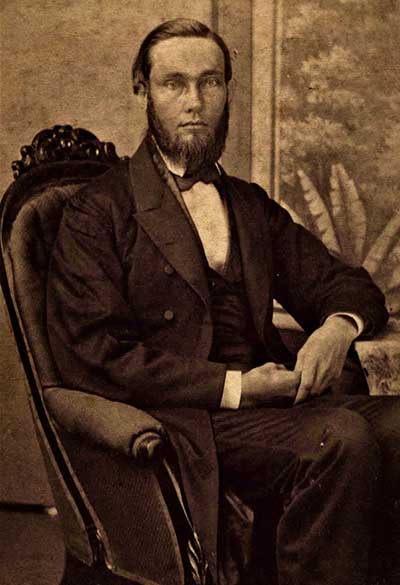 Twelve years later—in 1873—you and Clara return for another two-year stint. Then you spend the rest of your lives in Hawaii. And are you ever productive! You compile the first written Gilbertese-English dictionary; and you translate the rest of the Bible into Gilbertese, both the Old and New Testaments, along with hundreds of hymns and numerous commentaries on the Bible.
As for Clara: she's no stay-at-home housewife. She writes a Gilbertese reader for children; a book of Old Testament stories; and grade school textbooks in math and geography—in Gilbertese. And she and Hiram produce a son, Hiram Bingham III—yep, that one: the explorer of Machu Picchu fame.
So you ask, "So what? That's history! Old news in a faraway place!"
I thought so, too, . . . until I came across a new-to-me Gilbertese dictionary on Amazon. The author? "Anonymous".
I own a first edition copy of Bingham's dictionary, entitled simply, A Gilbertese-English Dictionary, published in 1908 in Boston by the American Board of Commissioners for Foreign Missions. I also have several other Gilbertese-English, and English-Gilbertese dictionaries published since Bingham's groundbreaking work. So of course I was intrigued by this new dictionary by "Anonymous."
A New Dictionary! But Who Is This "Anonymous" Author?
Wow, a new Gilbertese dictionary. Hardcover. $23.95. And with an impressive seal on the cover—"Scholar Select". But by an anonymous author? How odd . . . I ordered it anyway.
Oh my!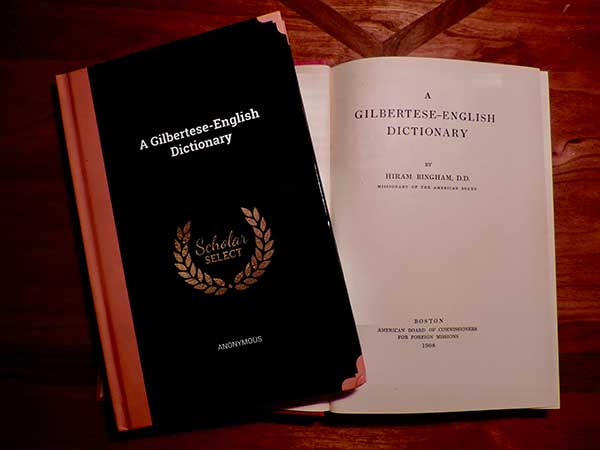 This hot "new" addition to Gilbertese literature is a photocopy of Bingham's dictionary. Yep, a photocopy—including the inside cover page which identifies it as Bingham's work.
And believe it or not, a reprinted page with this book donation stamp:
"Harvard College Library
Bequest of
Roland Burrage Dixon
May 19, 1936"
OK, Bingham's work was published in 1908. The copyright has expired. Anyone can reprint it, including in this case, Franklin Classics, an imprint of Creative Media Partners.
And how nice to know that the book came from a stellar source: Harvard. Did Franklin Classics borrow it? Was it a library castaway? Surely, they didn't steal it, did they?
I looked up the publisher. Here's the image on their homepage. Beautiful visual, no? Obviously, here's a company that values scholarship and books. But wait: no list of products; no staff names; no physical address, e-mail, or telephone number—just a form to fill out with our info, and any question we may have about one of their books.

And here's how Creative Media Partners define their mission:
"We are dedicated to making high quality reproductions of public domain works available in print again. Our books may have occasional imperfections such as missing or blurred pages, poor pictures, errant marks, etc. that were either part of the original artifact, or were introduced by the scanning process. However, we believe these works are culturally important, and despite the imperfections, have elected to bring them back into print as part of our continuing commitment to the preservation of printed works worldwide. Our books are reproductions published before 1923 or are otherwise found in the public domain."
A noble calling indeed.
So they copied Hiram Bingham's hard-won work and reprinted it. Fair enough. But then they conveniently replaced the author's name with "Anonymous"!
ANONYMOUS? My God! Hiram Bingham was anything but anonymous. His dictionary introduced the Gilbertese language to the world of printed literature.
And to those anonymous folks who reproduced Bingham's work as a "Franklin Classics, an imprint of Creative Media Partners"—and attributed it to Anonymous: FOR SHAME.
And a footnote: The Bingham line is anything but anonymous. Here's a brief outline:
Hiram Bingham I (1789-1869)—with others, translated The Bible into the Hawaiian language.
Hiram Bingham, II (1831-1908)—translated The Bible into Gilbertese and wrote the first Gilbertese dictionary.
Hiram Bingham III (1875-1956)—Yale professor and explorer noted for bringing Machu Picchu to the western world's attention; later, a US Senator from Connecticut.
Hiram Bingham IV (1903-1988)—American diplomat in Japan, China, Poland, Great Britain, France, Portugal, and Argentina. During World War II, as vice-counsel in Marseilles, he helped more than 2,500 Jews flee from France as Nazi forces advanced.