Choices . . .
choices . . .
choices . . .
choices . . .
Hello and welcome! Drop your backpack and settle in for conversation and stories – the kind to be retold around the campfire, or at a family reunion: How did an angry letter almost get Terry kicked out of the University of Colorado? How did Ann wind up driving her soldier-boyfriend's shiny Sting Ray convertible into a ditch on the way to Saint-Tropez?
How, indeed? A lot of our stories – yours and ours, all of us – come down to choices we make. If only I had said this, or done that, things would have turned out differently . . . How many times have you heard that – or thought it? Life is all about choices – what to be when we grow up, whom to marry, what to do on Saturday night, how to respond to a bully, how to protect an ideal. Some choices send us down pathways we never imagined, some good, some bad, all of them lessons in life.
We started capturing our stories when Terry stuffed a bunch of our juiciest tales into his Ph.D. dissertation, trying to figure out how to bring about change in his hometown, things like battling prejudice, blatant discrimination, and crippling poverty. It's available on inter-library loan from Cornell University, but that's not very accessible.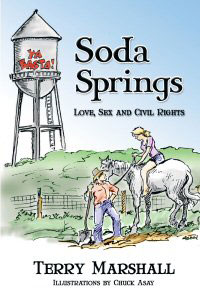 So next Terry made up a fictional character, a college guy from a place a lot like his hometown and put him and his pals into conflict with the local leaders over discrimination against Mexican-Americans. It's a rollicking coming of age tale that weaves love and sex into the previously untold story of the Chicano battle for civil rights in the 1960s. The story includes a lot of choices, some good, some off the wall, all of them part of a good read. Check it out at Soda Springs: Love, Sex, and Civil Rights.
And now, we've returned to non-fiction – Sting Ray Summer, a memoir that retraces the bumpy trail of how we came to marry, a choice that set us on a path to adventures around the world: the Philippines, Mexico, the Solomon Islands, Kiribati, Peru, Argentina, Vietnam, Cambodia, Thailand, Myanmar, and various destinations in Europe.
We think this is one of our best stories yet, so come join us.
We don't know you, but here we are, front door wide open, inviting you into our lives. We've opened the whole house to you – living room; attic and basement; kitchen with a few dirty dishes; bedroom, crumpled sheets flung askew; the closets; even that magical mirror in the hall – a portal into our past. In short, we've bared everything: It's as if we were standing here totally exposed.
Our memoir, Sting Ray Summer, is chock full of stories. Some, funny. Some, thrilling. Some, sad. Some, embarrassing. Some, alas, shocking. All of them hinge on choices we've made along the way. Some may spark memories of your own.
The road to Sting Ray Summer began with a simple question, "How should we celebrate our 50th wedding anniversary?" With a straight face, Terry said, "Let's redo the trip that you and Jack Sigg took in the summer of '64. You and me. Together." Ann's response: "What, are you nuts?"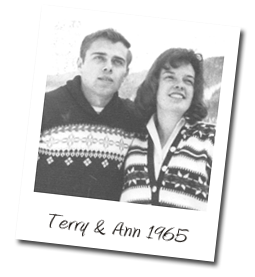 Apparently, we're both nuts, because fifty years after the fact, we re-traced Ann's European trip with her soldier-boyfriend and turned the summer of 1964 into a memoir.
On the trip re-do and in the writing we scoured our memories, our letters, old newspapers and resurrected nuggets that neither of us knew or fully understood at the time. Others were secrets we had buried that none of our families or friends knew – until now. Embarrassing or not, these stories and the choices we made insisted on coming back to life as part of our story.
So welcome to our new meeting place, where we share our best stories. Bring your friends. And if you want to travel back in time with us to our first adventure of a lifetime – once we get our latest book, Sting Ray Summer, published – sign up for our newsletter below.
Terry and Ann Marshall
Sign Up for Newsletter
Please keep in touch! And to be notified as soon as Sting Ray Summer comes out and to get other news from us, please sign up to the right. Our promise? We won't sell your address to anyone or clutter up your inbox with junk.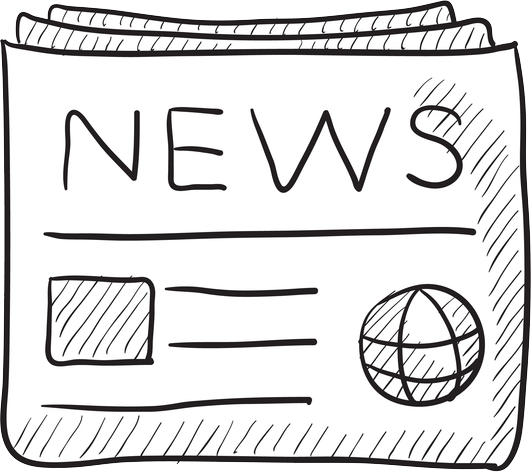 The Latest News
We're excited to launch our new website!
Check out our new book, Sting Ray Summer, printing 2019.

Facebook Feed