Some gifts are too special to be used—or, in this case, to be worn. My commemorative Shanksville t-shirt is one of those.
It was a gift from Bud Sigg (the father of my friend Jack), who sent it as a memento of Pennsylvania's place in the history of the 9-11 attacks.
That day, the passengers on Flight 93—one of four planes hijacked by terrorists on September 11, 2001—deterred the hijackers from their intent to crash the plane into the U.S. Capitol. Instead, they forced it into the ground some 30 miles from Bud's home in Johnstown, Pennsylvania.
I try to imagine whether Bud Sigg, who was going about his life in Johnstown, heard the scream of that Boeing 757 as it nosedived into that Shanksville field. Did he feel the impact?
How did I get into this picture?
My family and the Sigg family were friends because Jack and my brother Ralph were best friends at West Point.
Years later, after Jack died, Bud adopted my brother as a "surrogate son". Bud corresponded with my brother, and sent him the occasional crisp five-dollar bill for Christmas.
After my brother died in 1987, Bud adopted me as a "surrogate daughter." Over the years, we exchanged chatty letters and small gifts. From time to time, he sent me mementos, including news clippings extolling Jack's accomplishments; a lady's amethyst ring; and Jack's "A-pin"—the West Point equivalent of a fraternity pin. I sent him souvenirs and stories from our travels, including colorful calendars.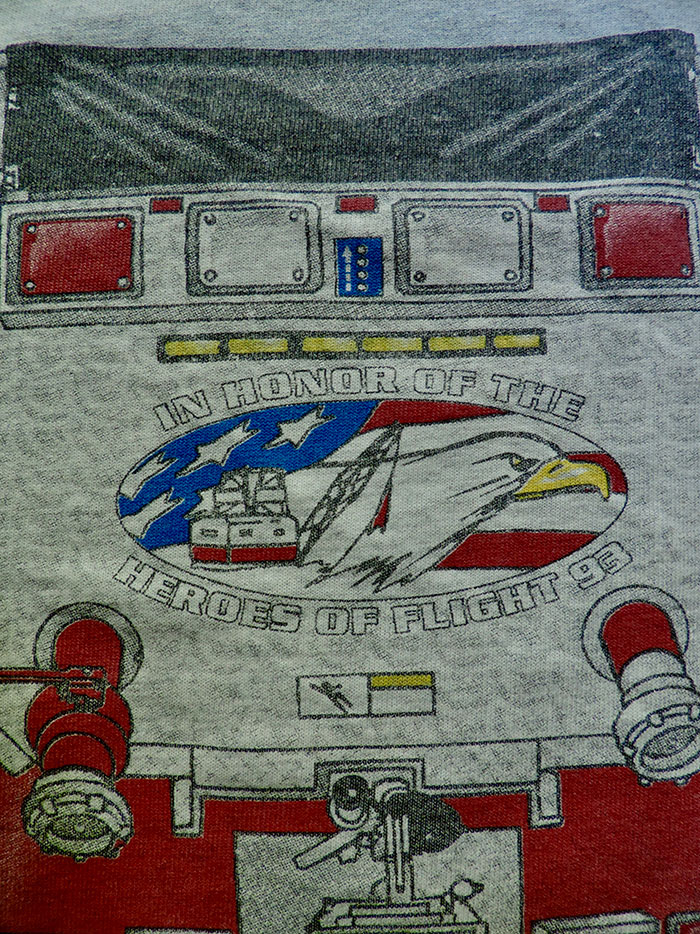 Bud's 9-11 gift was a gray t-shirt emblazoned with a huge fire truck, honoring the Shanksville Volunteer Fire Company, Station 627 on the front, and the Heroes of Flight 93 on the back.
Bud invited me into rural Pennsylvania's special place in history when he sent me that t-shirt.
Eventually, we began to wear it—on the 9-11s that followed. And on days when we wanted that bright spot of color or that reminder of the bold action the passengers of Flight 93 took. And other days, just because . . .
I'm wearing that t-shirt on the 20th anniversary of that horrific day—
To salute the volunteers of the Shanksville Fire Company . . .
To honor the heroes of Flight 93
To commemorate the thousands of people who died on 9-11 . . .
To thank those who worked selflessly under life-threatening conditions to rescue or recover the victims in the Twin Towers, the Pentagon, and the Shanksville field.
And because every time I put it on, it reminds me of Bud Sigg and his only son, my dear friend, Jack.—Ann